Babraham
Selling or Buying in Babraham?
Alternatively, click here if you wish to search online for any available properties in the village or here if you are thinking of selling and would like to arrange a face-to-face free, no obligation, valuation. Just curious? Then click here for an instant valuation of your home.
Location
Babraham is a picturesque village located approximately 6 miles (9.66 kilometres) from the city of Cambridge, with access to the A1307, A11 and M11. Babraham Road Park and Ride runs a bus service every half an hour at peak times into the city, as well as into Addenbrooke's hospital.
Village Information
The village is home to the Babraham Institute, best known for its research into cell and molecular biology and is a partner organisation to the University of Cambridge. Rated as outstanding by Ofsted, Babraham Nursery offers care and education for children from the age of 6 weeks, through to primary school age. The village also has a successful Church of England primary school which was also rated outstanding by Ofsted in its most recent inspection and is set within beautiful countryside. The secondary school catchment is Sawston Village College which is located under two miles away.
Facilities
Babraham also has one public house, The George Inn, an 18thcentury coaching inn set in the heart of the village, with daily specials on the varied menu of home-made food, and evening entertainment such music and quiz nights. There is a cricket team and beautiful walks at the Gog Magog Hills just 2 miles (3.22 km) away by car or a short bike ride along the cycle path.
If you live in Babraham and feel there is anything to add or correct in our village guide, then please do let us know as we aim to keep it as useful as possible for home buyers moving into this area.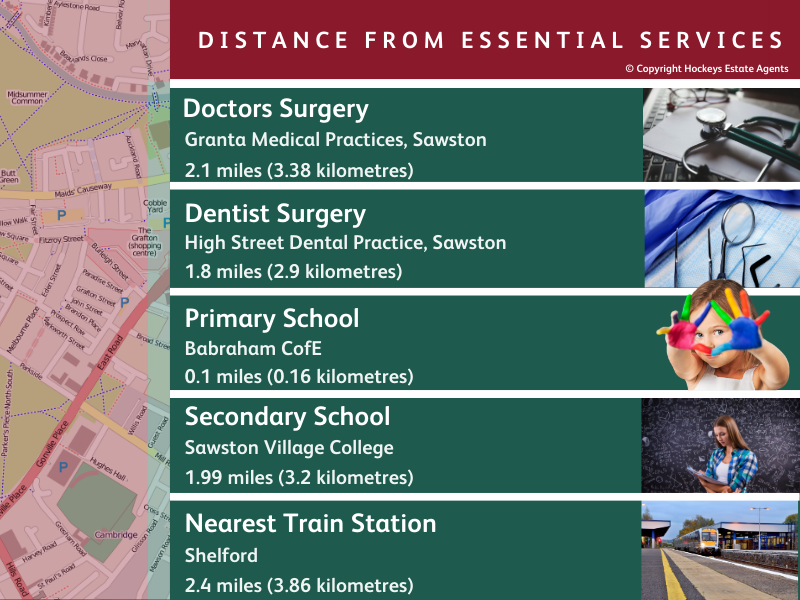 Updated 15th April 2020.
Please note that Cambridge has a fine selection of independent and special schools, which have not been included. The information regarding schools, doctors and dentists contained in this infographic is based on information supplied by the GOV.UK website. You must seek clarification from the school itself to ensure that the area above is within the correct school catchment. Train line distances are straight line measurements.
If you live locally and feel there is any incorrect or missing information in these village guides, then please do contact us as our aim is to keep them as up to date as possible to assist buyers moving into the area.