Cherry Hinton
Selling or Buying in Cherry Hinton?
If you are thinking of selling or buying a property and are looking for an estate agent in Cherry Hinton, then please contact Hockeys on 01223 356054 to speak with one of our local village specialists.
Alternatively, click here if you wish to search online for any available properties in the village or here if you are thinking of selling and would like to arrange a face-to-face, free, no obligation, valuation. Just curious? Then click here for an instant valuation of your home.
Location
Cherry Hinton is classed as a suburb to Cambridge, located just 3 miles (4.83 kilometres) south-east from the city centre which can be easily accessed by bicycle within 20 minutes and a 15 minute cycle ride to the station. For those looking to commute to London, Cambridge has a mainline to London King's Cross and also London Liverpool Street. Cherry Hinton also offers easy access to Addenbrooke's hospital.
Village Information
Neighbouring this bustling village are Teversham, Fulbourn and the Gog Magog Hills with beautiful walks in the woods and open countryside, also Cherry Hinton Pit which is a nature reserve formed from the old chalk pits. Cambridge Folk Festival is a popular annual event, hosted in the grounds of Cherry Hinton Hall where thousands of people from around the world attend. Besides the Folk Festival, throughout the year the grounds are enjoyed by families who can take advantage of the open grassland and wooded areas, many community activities are held within its grounds.
Facilities
Within the High Street and village centre, there are several amenities such as two health centres, a mini supermarket, a newsagent, pharmacy, charity shop, post office and many restaurants and food outlets. There are various sports facilities and clubs within the village, including the leisure centre which offers badminton, 5-a-side football, basketball and a number of exercise classes. Cherry Hinton also offers other activities for the younger population such as a recreation ground with children's play area and a park which has paddling pools, tennis courts and children's play equipment. There are four primary schools in Cherry Hinton which also falls under the catchment area for Netherhall Secondary School or St Bede's Inter-Church Comprehensive School.
If you live in Cherry Hinton and feel there is anything to add or correct in our village guide, then please do let us know as we aim to keep it as useful as possible for home buyers moving into this area.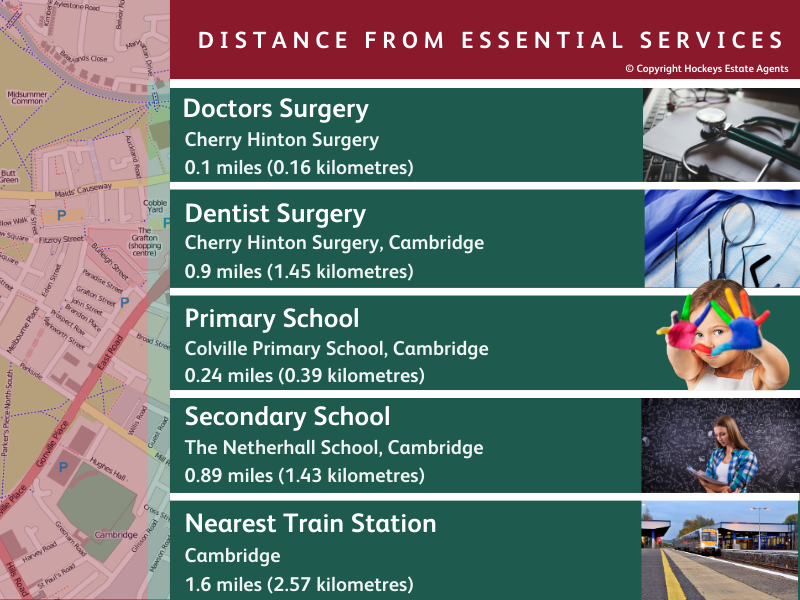 Updated 16th April 2020.
Please note that Cambridge has a fine selection of independent and special schools, which have not been included. The information regarding schools, doctors and dentists contained in this infographic is based on information supplied by the GOV.UK website. You must seek clarification from the school itself to ensure that the area above is within the correct school catchment. Train line distances are straight line measurements.
If you live locally and feel there is any incorrect or missing information in these village guides, then please do contact us as our aim is to keep them as up to date as possible to assist buyers moving into the area.