Romsey
Selling or Buying in Romsey?
If you are thinking of selling or buying a property and are looking for an estate agent in Romsey, then please contact Hockeys on 01223 356054 to speak with one of our local specialists.
Alternatively, click here if you wish to search online for any available properties in the village or here if you are thinking of selling and would like to arrange a face-to-face, free, no obligation, valuation. Just curious? Then click here for an instant valuation of your home.
Location
Romsey or Romsey Town is a suburb and district council ward about 1.5 miles (2.41 kilometres) from the city centre, but with its own micro community where everything is on hand for the many people who live there.
Area Information
Travel supermarket listed Romsey as one of the trendiest spots to visit in a countrywide ranking and it scored highly in categories such as "hip culture outpost" and "creative capital", outranking areas in London and Liverpool. Locals feel that the "community spirit" and "village feel" of the neighbourhood is what makes it such a good part of the city to live. Just like its neighbour Petersfield, the area is thriving with a wide variety of mainly independent businesses, shops and restaurants.
Taking place the first Saturday of every December, the Mill Road Winter Fair brings the community together in the run-up to Christmas where song and dance, live bands, arts and crafts, entertainment and plenty of food and drink descends on Mill Road. It has become one of the most enjoyed and biggest events in Cambridge.
As the area has a high density of housing, namely beautiful period homes, open spaces are limited, but Romsey Recreation Ground on Vinery Road has a multi use games area and an outdoor basketball court, there is also a play area on Great Eastern Street.
Facilities
There are two doctors surgeries, located at the Brookfields Health Centre on Seymour Street and the Mill Road Surgery, the Antwerp House Dentist can be found on Brookfields.
For nursery schooling, the closest are Brunswick Nursery and Romsey Mill, which is a Christian charity providing preschool sessions, rated 'Outstanding' by Ofsted. Primary Schools are St Philips Primary School and Ridgefield Primary School which also includes a nursery class for those aged 3 to 5.
Coleridge Community College on Radegund Rd is the closest secondary school.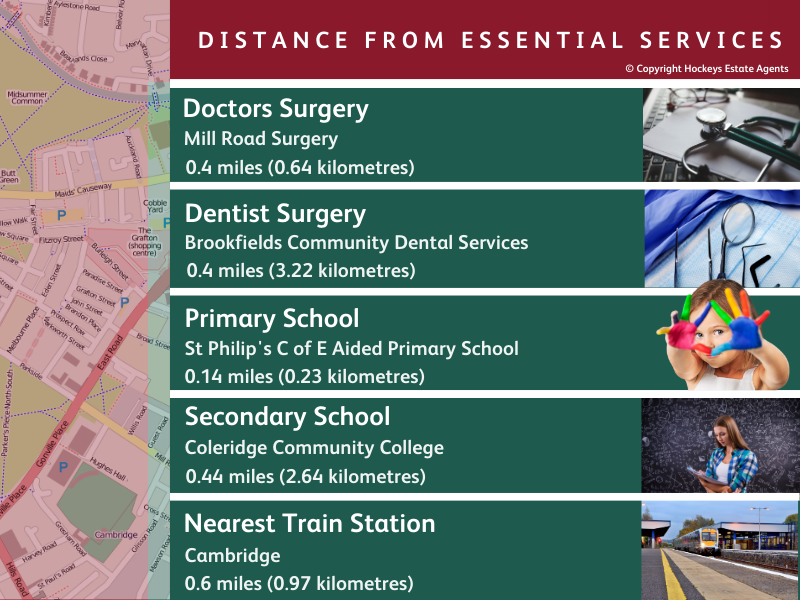 Updated 20th April 2020.
If you live in Romsey and feel there is anything to add or correct in our village guide, then please do let us know as we aim to keep it as useful as possible for home buyers moving into this area.
Please note that Cambridge has a fine selection of independent and special schools, which have not been included. The information regarding schools, doctors and dentists contained in this infographic is based on information supplied by the GOV.UK website. You must seek clarification from the school itself to ensure that the area above is within the correct school catchment. Train line distances are straight line measurements.
If you live locally and feel there is any incorrect or missing information in these village guides, then please do contact us as our aim is to keep them as up to date as possible to assist buyers moving into the area.