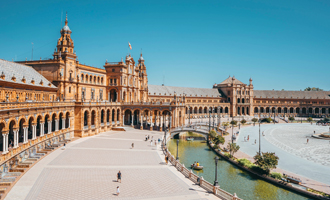 Seville is a melting pot of architectural styles, cuisines and the perfect all-year weekend getaway.
If you love a European mini-break and enjoy meandering around back streets as much as sitting in sweeping plazas and visiting incredible, iconic buildings, don´t hesitate to book a weekend away in Seville. As lively as it is sleepy, depending on where you go, its charm extends beyond its rich variety of architectural styles due to its history of exploration. The Andalusian capital will not disappoint with its colourful, romantic back streets, squares and wide plazas open for people-watching.
Seville is a city of wheels – you can see it by open-top bus, by Segway, by in-line skates,
by bicycle or electric scooter – or you can go traditional and opt for a tour by foot or horse and carriage. However you choose to get around, you'll have to try really hard not to fall in love with this city.
Must sees
1. Mercardo Lonja del Barranco
A stylish gourmet food market on the riverside, close to the Plaza de Armas bus station. Seville has a reputation for being ´pijo´, or ´posh´, and the locals are often referred to as ´pijos´; a reputation that is only reinforced by a visit to this market!
2. Seville Cathedral
Dominating the historic centre, this is the largest cathedral and the third largest church in the world. It's a sprawling Gothic building built between 1401 and 1507 to show off to the rest of Europe. Even if you don't make it inside, you can pause for lunch in a pavement restaurant opposite the main entrance and just gaze at the splendour of its exterior.
3. Real Alcázar de Sevilla
Moorish architecture sits alongside Catholic here in Seville and the Moorish Alcázar palace is footsteps away from the cathedral. As well as the building and artwork inside, the Alcázar has beautiful gardens and a café inside – you can easily spend a couple of hours meandering around the arches here.
4. Alameda de Hércules
This could once have been said to be a slightly shabby, unloved area of town; it used to attract pick pockets and prostitutes but is now enjoying something of a renaissance. People now come here for the evening "paseo" (promenade) and perhaps to linger in late-night cocktail bars – it has become a hub for cool, young Sevillians.
5. Triana
On the open-top bus, this area – the traditional gypsy quarter – is best viewed from the top-deck. Almost Cuban in feel, there are tall, colourful, buildings with balcony gardens being tended by residents, and below, cheap and characterful tapas bars. It is known for Flamenco and bullfighting and sits on the opposite side of the Guadalquivir river from the city's main attractions.
6. Plaza de España
This imposing, magnificent semi-circular bulidng was built for the Ibero-American Exhibition of 1929 (Expo 29) and is Renaissance/neo-Moorish in style. In front
of it, following the curve of its facade, is a 500-metre canal crossed by four bridges, and in the centre of it all is the Plaza itself. Known as the "Venice of Seville" you can even rent
a small rowing boat.
Getting there
Seville is only a short hop away from Stansted Airport, with plenty of scope for a cheap weekend deal from Ryanair and a 2h 50 flight. Flights depart early morning or early evening most days during peak season Easyjet flies direct from London Gatwick and Luton, and British Airways flies direct from London Gatwick.
A taxi ride from the airport into Seville city centre will cost between €20-25 but be prepared for most standard taxis to only take 4 passengers. Some hotels closer to the airport offer free shuttle buses to and from the city centre.
Where to eat
PEKO-PEKO,
Calle St. María la Blanca
+34 954 41 50 97
Open every day from 12.00 – 23.45
PEKO-PEKO restaurant, in the heart of the Santa Cruz neighbourhood, serves up a fusion menu of Andalusian and Peruvian cuisine. Hide away inside or enjoy the pavement café feel outside, tucked away up a little side street as you come out of the labyrinth streets of the old Jewish quarter of the city. Here, you can sample tapas such and also main courses such as Chicken Skewers Yuca and Huancaina sauce, Peruvian noodles with chicken sweet soy sauce and vegetables, scallops cooked in pisco and grated with parmesan cheese or roasted pepper stuffed with beef and Peruvian spices. There is of course a good choice of seafood, ribs and their Lemon Pie is well worth finishing with!
Where to stay

Hotel Mercer
If the budget stretches, allow yourself to be captivated by this exquisite five-star hotel. Perfect for a luxury weekend away if you are looking for a real treat, as a couple of or with your best friend, The Mercer Hotel only has 12 rooms, all boutique in design. Seville can reach temperatures of 40c by Easter and so you will be glad of being able to retreat to the rooftop pool and charming terrace after a busy morning of sightseeing. This jewel of a hotel has a high-end foodies' restaurant and FIZZ cocktail bar located around a typical Andalusian patio. Located near the Plaza Nueva, you will find everything you could possibly desire inside or just outside the hotel and can immerse yourself in the refined and distinguished atmosphere.
info@mercersevilla.com
+34 95 422 30 04