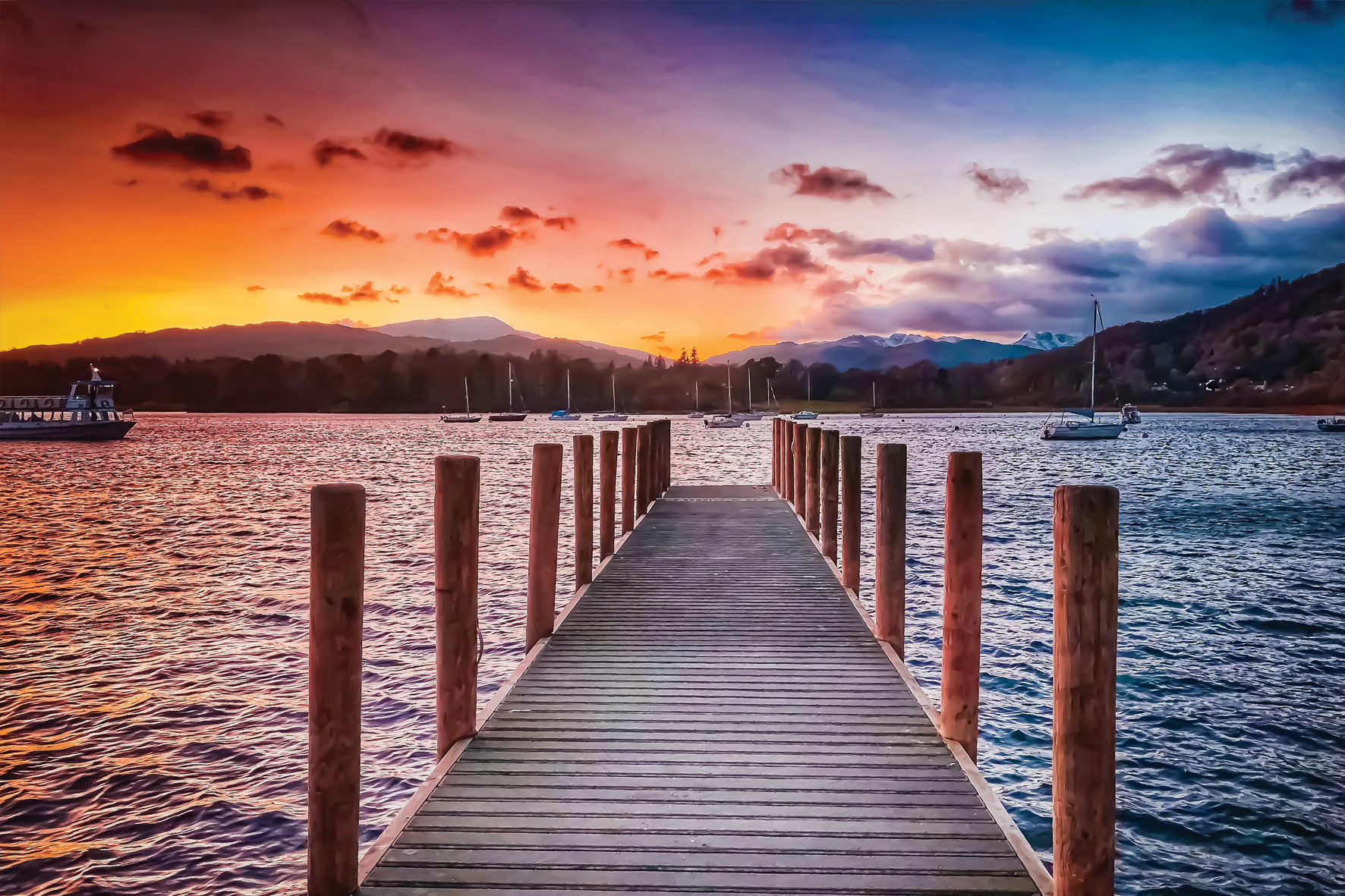 Famous for its lake and a popular staycation destination, Windermere has long been a magnet for families, outdoors enthusiasts and, increasingly, foodies!
Almost the last stop north in England's North West, Cumbria's national park, the Lake District, is well known for Beatrix Potter, William Wordsworth and Alfred Wainwright. And it's easy to see why it inspired such creativity. Windermere is a characterful little Cumbrian village with everything you'd need for a romantic break, family holiday or adventure trip. Nestled one mile inland from the north-eastern shores of England's longest lake at 10.5 miles from north to south with Waterhead at the top and Newby Bridge at the bottom, Windermere is a fantastic base to explore this fantastic playground. The best way to enjoy Windermere is really to get out on the lake – by speedboat, rowing boat, motorboat, kayak, paddle, steam cruiser or even a car ferry. Alternatively, dust off your walking boots and head up high for the views – Orrest Head is a popular walk for beginners! It's a two-mile hike from and two the Windemere Tourist Information Centre and has magnificent views from the top. Brant Head is another short walk from Windermere – park at Glebe Road and follow paths and stone tracks, and cross stiles, to enjoy a spectacular view from the top, looking out over Windermere to the Coniston fells. Windermere is also the perfect spot to explore towns such as Ambleside, Grasmere, Hawkshead, Keswick and Ulverston. Whatever the season, whatever your style of holiday, Windermere won't disappoint.

WHERE TO EAT
Cosy café (with outdoor seating)
Popular with locals for brunch and speciality coffee, and caters for special diets. Come for breakfast, lunch or brunch and expect a wholesome experience, plenty of sourdough and a very warm welcome. www.homegroundcafe.co.uk
Country Pub (with outdoor seating)
At the Hole in t´Wall, the oldest pub in Bowness, built in 1612, you´ll find locals and visitors and great British pub grub with special diets catered for. Whether it´s a sharing plate of local cured meats and cheese or a Lamb Henry you fancy, you´ll be made very welcome by the staff. www.holeintwall.co.uk
Treat night
Travel just a little out of Windermere on the Crook Road by car or taxi and treat yourself to dinner at The Wild Boar´s Grill and Smokehouse Restaurant. With comfortable seating, open fires and seasonal specialities, you can try international cuisine with inspiration from the Middle East and Italy. 0333 220 3108 / https://englishlakes.co.uk/the-wild-boar/restaurants-bars/grill-smokehouse-restaurant/
WHERE TO STAY
Hillthwaite Hotel
If you´re looking for adventure, Windermere has options for camping and youth-hostelling, and a range of self-catering cottages and Air BnBs. Our recommendation for a family or romantic break is the Hillthwaite Hotel.
Hillthwaite sits in a beautiful location between the villages of Bowness and Windermere and you won´t fail to be impressed by the panoramic views and the warmest of welcomes. This family-owned hotel, in the same family for 40 years, has a spectacular terrace, ideal for some quiet time to enjoy a classic Afternoon Tea, cappuccino or an aperitif before dining in the table-served restaurant to enjoy a three-course dinner. It has 34 individually designed bedrooms – from cosy or classic to occasion or signature, and table-served breakfasts. The steam room, sauna and small (7m) heated swimming pool offer another way to relax – if you can tear yourself away from the views or the landscaped garden!

www.hillthwaite.com
Hillthwaite, Thornbarrow Road, Windermere LA23 2DF 015394 43636
GETTING THERE
By car from London or Cambridge – Leave the M6 at Junction 36 and take the A591 past Kendal to Windermere. It´s around 1 hour 30 mins north of Manchester.
By train – take a train direct from London Euston to Oxenholme the Lake District and change to the shuttle to Windermere. The station is in the centre of the village, close to a supermarket, Booths, and to the flagship Lakeland store.
By plane – fly from London Stansted to Manchester and take the shuttle train direct from Manchester Airport to Windermere.
Visit www.lakedistrict.gov.uk
QUICK FACTS!
• Windermere is a mile inland from the shore of the lake.
• The lake is actually a mere! It´s just over 10.5 miles/18km long and it´s deepest point is 219 feet/66.7m.
• Windermere´s speed limit is 10 nautical mph for powered craft and 6 nautical mph for all other craft.
• Windermere has a yacht club, sailing club, boat club and golf club
• Windermere is popular for fishing – it has charr, brown trout, perch, roach, eels, salmon and sea trout.