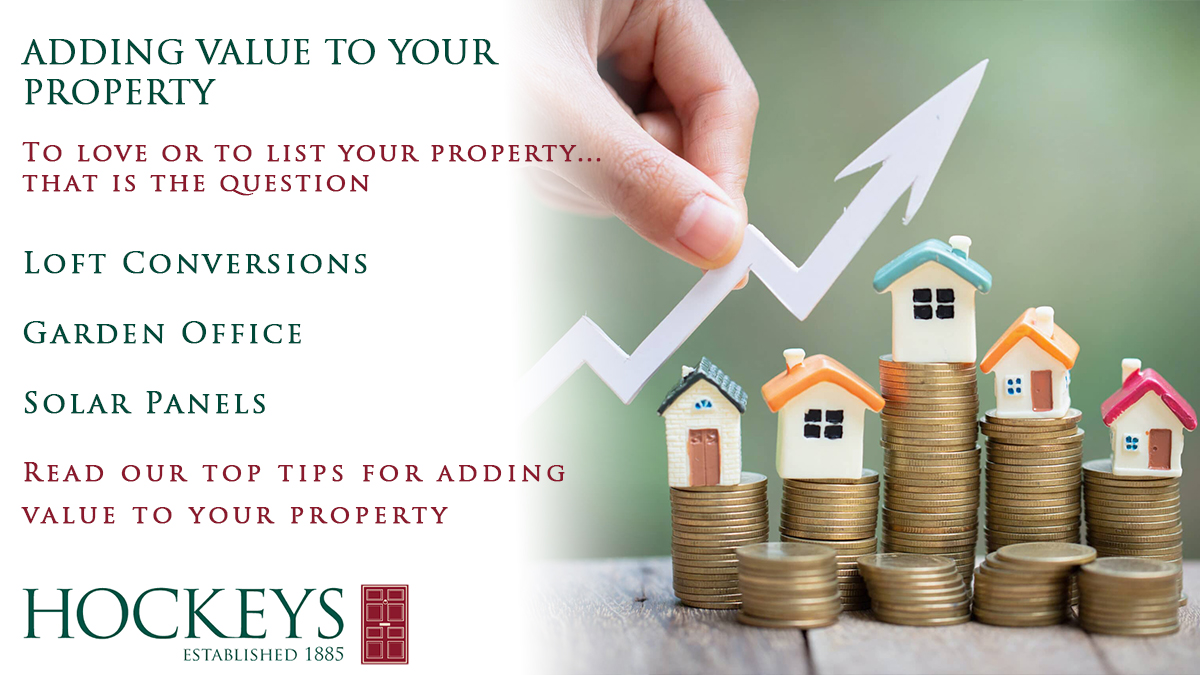 To love or list your property? That is the question. Yes, you may crave some extra downstairs space and an additional bedroom, but with house prices rocketing, adding value to your current home and selling once the market settles down could be a good bet.
But is a simple garden idea enough to up the value? Are there home improvements that don't add pounds to your property? And is building a house extension the answer?
Jeremy Trott, Director here at Hockeys, the leading Cambridge estate agency, sets out five value adders to consider.
Loft Conversion
Loft conversions in most cases are pretty simple to build and are fairly cost-effective. Yes, you may lose some storage space, but it's a small price to pay for an extra bedroom – and once you've decluttered and had a few tip trips, your storage needs will be reduced anyway! There are different types of loft conversion with varying degrees of build difficulty, but a good, efficient builder should be able to have the work done in a couple of months.
Garden Office
The pandemic has changed the way we work - hybrid working is now commonplace and for some, working exclusively at home is here to stay. Now could not be a better time, than to invest in a garden office. But extending into the garden to create an office will be costly and time-consuming, won't it? No. Garden office pods are easy to install are relatively cheap and can create a clean, spacious environment away from the hustle and bustle of the house.
House Extension
A sure-fire way to add value to your property is by increasing the space – and what better way to achieve this than with a house extension? Whether it's a rear extension a side extension or a double storey, it's important to do your homework and shop around for a quote. You need to make sure that the build cost doesn't exceed the value added. Getting it right and increasing the space can be a real game changer. Not only do you have more room, but by adding bifold doors or a roof velux you can increase your light and make your home a brighter place to be. All of this of course makes your property a more attractive proposition when you come to put it on the market.
Garage Conversion
A few bikes, a lawnmower and some crab fishing gear from last year's trip to Blakeney. If this sounds like the contents of your garage, it might be time to look at putting that space to better use. Yes, you may lose somewhere to keep the car out of the rain, but it is more than worth it to add valuable space to your home. Garage conversions can be a great way to utilise square footage that is otherwise wasted. They can be more cost-effective than building an extension too, as you are adding to a structure rather than building a new one, so digging new foundations may not be required.
Home Decorating
Aesthetics are important, and if your interior has seen better days and paint peel is rife, then it's time to act. Home decorating has the potential to add value but doesn't need to cost the earth. If you're handy with a paintbrush to accentuate your property's features, then all you're splashing out on is your time and some tins of Dulux. You don't have to stop at walls either, adding a lick of paint to furniture or a feature cabinet is a great way to give a new lease of life and improve the overall look of your house.
Arrange a Cambridge Home Valuation
If your property is in the Cambridge area, why not request an expert check on its sale value? Request a Cambridge property valuation now, and we'll do the rest!