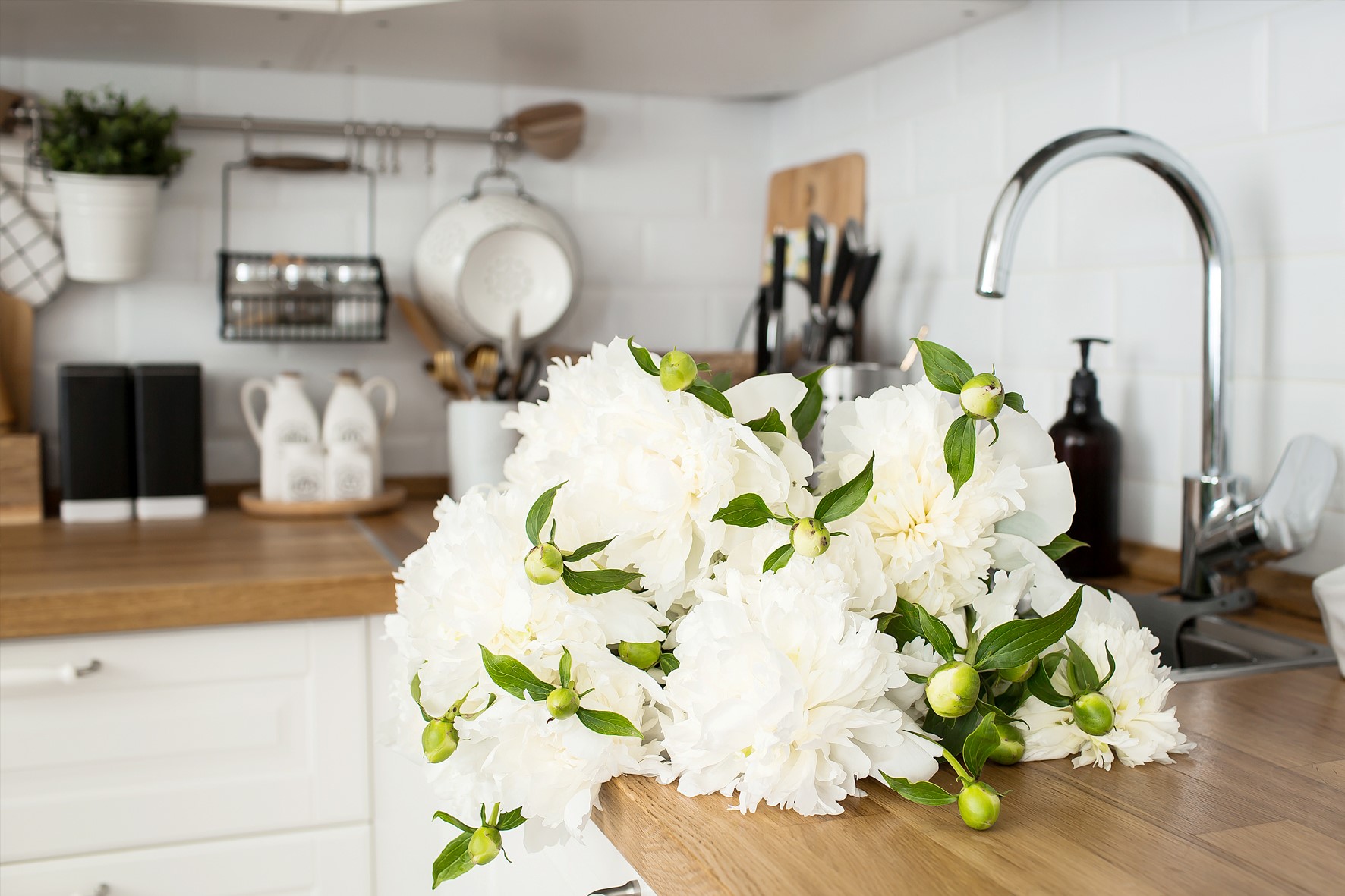 For a long time, we´ve been using the power of the scent of freshly brewed coffee, fresh laundry or fresh flowers to tap into a prospective buyer´s senses when they view our houses for sale in Cambridge. But now, with more virtual viewings, much of the effort goes into staging your photographs or online tour. Hockey´s Estate Agency in Cambridge, Willingham and Newmarket have sales negotiators who are experts in advising on how to stage your home, and investing some time and money into setting the perfect scene will woo your buyers. In this blog post we look at the power of the flower – and the best bit of focusing on flowers is that you can learn a skill that will stay with you and give you pleasure for years to come, as Emma Jackson from The Cambridge Flower School explains below.
Spring time is a popular time of year for house-hunters and the month of March brings us the blossoming of beautiful and bright blooms: sumptuous multi-petalled tulips, swirly Ranunculus heads, and bright yellow and white daffodils - symbolising new beginnings, good luck and prosperity. No wonder we like to consider moving house or changing jobs and relocating at this time of year.
How to use flowers to stage your home
We spoke to Emma Jackson from The Cambridge Flower School to get her tips on flower arranging at home. She said, "Regularly having flowers in your house is one way to help nurture an atmosphere of calm, happiness and wellbeing, as well as creating an instant feeling of homeliness to any space. It's even been scientifically proven that flowers have an immediate positive impact on your happiness – giving you the perfect excuse to treat yourself!
Whether making a table centre or vase arrangement, stick to seasonal flowers with uplifting colours. It's also the perfect time of year to hunt around your garden as there will be plenty of foliage growing to add to your arrangement. Let your colour combinations be inspired by Spring, either sticking to one palate in all its shades for a more traditional aesthetic, or randomly mix colour and textures for a 'wild garden' look.
Having flowers in your home also doesn't have to cost a fortune - head down to your local florist or market trader for a knowledgeable and personal experience. This is also a great way to support your local community and the flowers on offer are more likely to be responsibly sourced."
Here are Emma´s five top tips to help you make your flowers last longer at home:
Buy in bud – buy in bud rather than full bloom and enjoy your flowers for longer
Cut your stems – at a sharp angle to help the flowers drink up water
Remove the foliage – anything looking dead or below the water line, to avoid bacteria spreading
Fresh water and clean vase – do this every 2 days and you'll have no need for flower food
Avoid the heat - keep your flowers in a cooler room and out of direct sunlight
The Cambridge Flower School
The Cambridge Flower School is running a range of Spring events throughout the months of March and April, utilising the best of this season´s flowers to create arrangements including a beautiful Easter wreath, table arrangement, or Mother´s Day gift. Their workshops make a fabulous gift for a best friend, mum, granny or even just for yourself if you´re thinking about that virtual tour of your house!
Visit https://www.thecambridgeflowerschool.co.uk/, call 01223 655661 or email: info@thecambridgeflowerschool.co.uk
Finding your flowers! Market Stalls and local florists
Whether it´s sourcing flowers or simply looking for inspiration, here are a few florists to begin with:
Peter Graves Florist has been trading on Cambridge market since 1958, opposite Great Mary´s and Hugo Boss, six days a week, 9am to 5pm. They carry a range of fresh flowers and also have a shop in Girton. Visit www.petergravesflorist.co.uk , call 01223 276408 or email shop@pgflorist.co.uk
The Flower Shop on Magdalene Street has been featured in some of the UK´s leading newspapers and magazines including Ideal Home and Country Homes and Interiors. Get inspired by some of their own bouquets and select your favourite blooms to take home and get creative with. Open Monday to Friday, 10am to 4pm and Saturday mornings. They also have a supply of house plants. Visit www.theflowerhouse.co.uk, call 01223 364500 or email info@theflowerhouse.co.uk
The Manor Florist is based at Burwash Manor Barns in Barton and are a small team. They have a daily delivery of fresh flowers and stock a large range of houseplants and pots. Flowers aren´t the only thing you´ll find at Burwash Manor – there are 15 independent unique shops, including original art, fabric and sewing, vintage furniture, garden furniture and Persian carpets, as well as a day spa and tea room. Visit www.flowerscambridge.co.uk, call 01223 260049 or visit orders@flowerscambridge.co.uk . Burwash Manor is open seven days a week and has free parking and a children´s play area.
If you´re considering selling your home and would like to talk to someone from Hockey´s team of experts about going on the market, visit the link below. Hockeys Estate Agents of Cambridge have operated through Cambridgeshire for over 130 years, and as you may expect, they know a thing or two about the local area.