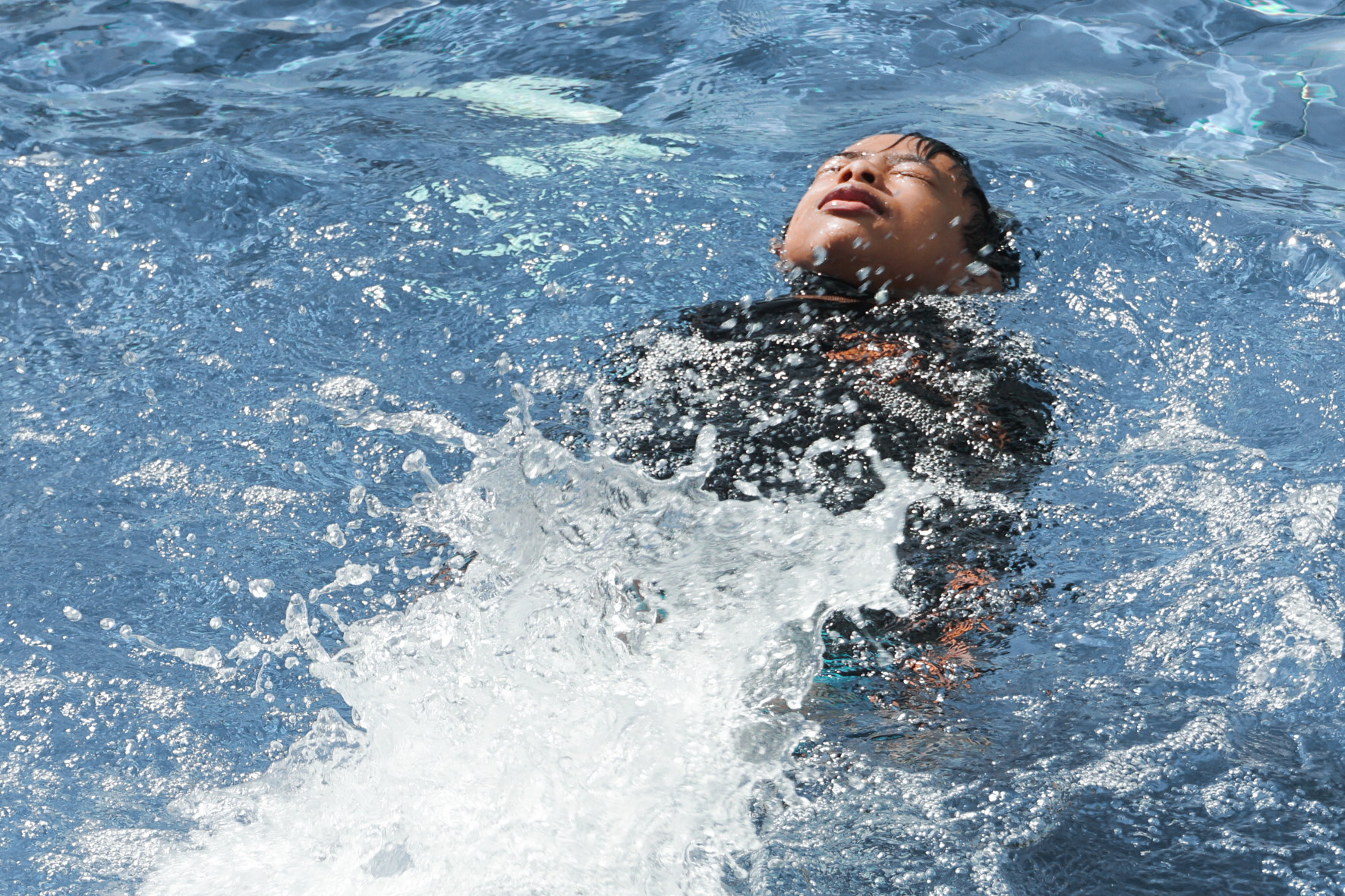 The popularity of wild swimming and the health benefits of cold-water immersion might be one of those lifestyle choices that splits us down the middle. Chloe Farrer, yoga teacher, is one of the converted and she explains why and where you can try this in Cambridge.
"During the first lockdown in 2020 I turned to yoga as a form of exercise and a way of focusing on mental wellbeing. I became a qualified yoga teacher and started researching different ways of improving my mental and physical health. To give you a bit of background mental wellbeing is about your thoughts and feelings and how you cope with the ups and downs of everyday life. It's about how you deal with the stresses of day-to-day life and how you manage when things change. Our mental wellbeing is often affected by big life events that we have little control over, illness for example. I found ways of coping with the stress of everyday life and the pandemic by practising yoga, mindfulness and yes, I started cold water immersion!"
The spa-loving amongst us might wonder what would possess someone to immerse themselves in cold water, or some might not even feel able to try it at all. Chloe explains, there´s a secret to it. She began with cold water immersion with five-minute dips in the winter mornings, then learnt a specific breathing technique that made all the difference.
"A man called Wim Hoff, known as 'the ice man' teaches a method involving deep inhalation through the nose or mouth, exhaling unforced through the mouth. You fully inhale through the belly, then the chest, then let go unforced. I learnt how to do this and to repeat it in short, powerful bursts, 30 to 40 times. I would do the Wim Hoff breathing technique before doing my cold-water immersion and started seeing the benefits of the breathing and swims almost immediately. I then started swimming in even colder water and now regularly go for ice cold swims in dams where I am having to break the ice to get into the water.
The benefits of cold water swimming, and getting started
The good news is that it´s fairly easy to get used to water temperatures in the UK by just getting into a regular habit. To really feel the benefits of the cold water you need to stay with your body fully submerged in the water for at least two minute – if you can adapt to it, cold water swimming has multiple benefits for your mental and physical health, including:


immune system booster
improves circulation
better sleep
heightened focus and determination
helps injuries heal quicker
reduces stress (yes, really!)
great way of socialising and making new friends.
Diving in!
If you're looking to dive into the world of cold water immersion there are a few clubs and places to go in Cambridge. Summer is a great time to start, as it´s easier to let your body acclimatise to the cold water but why not start now? Begin with cold showers in the morning to get use to being in cold water – start small and build up gradually, going from a 10-second burst to eventually tolerating it for longer periods. 16c is a typical UK water temperature, such as the English Channel – but some seasoned cold water swimmers, with the proper training, have even gone as far as training for the Ice Mile event, swimming in water that is 5c or lower.
Safety tips for cold water swimming
Only swim where it is safe
Make sure you can exit and enter the water quickly
Wear the right kit, with a floatation device
Warm up slowly
When you get out, keep moving and have a warm change of clothes
Where possible, go in a group or with a partner – making it a social activity makes it more fun!
Know your limits!
Where to go cold water swimming in Cambridge
If you´re looking for an organised, monitored location to begin, head to Milton Country Park. Below are some other recommended wild-swimming spots
Milton Country Park
Address: Cambridge, CB24 6AZ
Opening times:
Wednesday morning: 7.30am – 8.30am
Fridays 6pm – 7.30pm
Saturdays 7.30am to 8.30am and 8.45am – 9.45am
Sessions designed for all abilities and everyone is welcome to enjoy the beautiful lake and 450m course with the peace of mind of being monitored. Booking is essential.
Wet suits compulsory below 16c and a bright coloured swimming cap must be worn.
You must be a confident swimmer, able to swim 400m without stopping.
Cost is £5 to include parking.
Call 01223 420060 / www.facebook.com/miltonopenwater
water@cambridgesportlakes.org.uk
Grantchester Meadows
Despite talk of wild swimming being banned here – a place that the likes of Lord Byron, Rupert Brooke and Virginia Wolf would often swim – a petition set up by a wild swimmer brought it to the public´s attention and the power of public opinion has resulted in a review.
More Cold Water Swimming locations in the Cambridge area
Newnham Riverbank – clothes optional, famed for its popularity with skinnydipping Lord Byron!
River Chelmer, near Ulting – You can swim around a mile downstream from Hoe Mill Bridge and Lock. Some of the cleanest of any Essex river, and estimated to be 2m deep.
Santon Downham, Little Ouse – A tranquil spot just over the border in Suffolk, an idyllic chalky riverbed and access just under the footbridge. Up to 6km of swimming here.
Houghton Mill – National Trust property grounds, clear water and easy access – very peaceful.
Hannam´s Wake Hub – open from Spring 2022
Jesus Green Lido - one of the longest lid's in the UK, 100 yards
Useful links for more information on cold water swimming

More to do in Cambridge
There's much more you can do in Cambridge:
And if you'd like to live in Cambridge, Hockeys can help you find the perfect Cambridge property.