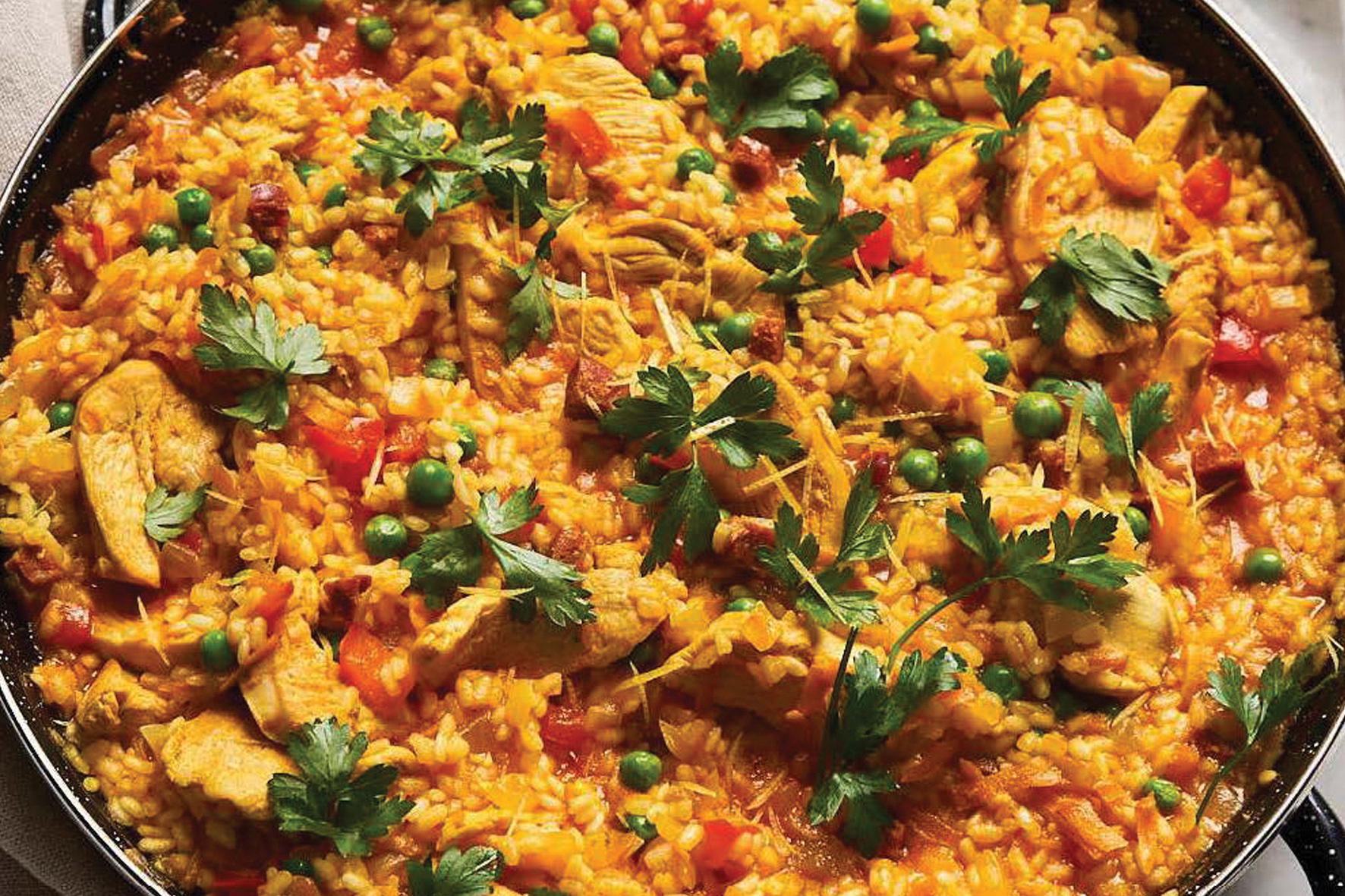 Bursting with the flavours of zingy lemon and smoky chorizo, this simple paella is always a crowd-pleaser. If you can't get hold of paella rice, simply substitute with Arborio rice or even long-grain rice. Serve alongside some green vegetables, such as green beans or broccoli.
Zesty chicken & chorizo paella
Serves 4
Calories per serving: 490
INGREDIENTS:
• 1 teaspoon rapeseed oil
• 35g (1¼oz) chorizo, finely chopped
• 3 chicken breasts, chopped into chunks
• 1 onion, finely chopped
• 2 garlic cloves, finely chopped
• 15g (½oz) parsley, leaves separated, stalks chopped
• 1 carrot, peeled and grated
• 1 red pepper, deseeded and chopped
• 1 teaspoon smoked paprika
• ½ teaspoon cayenne pepper
• ½ teaspoon ground turmeric
• 1 chicken stock cube
• 300g (10½oz) paella rice (or see recipe introduction)
• 750ml (1¼ pints) boiling water
• 100g (3½oz) frozen peas
• 1 lemon
• salt and pepper
METHOD:
1 Heat the oil in a large wok or similar pan and stir-fry the chorizo, chicken, onion, garlic, parsley stalks and grated carrot for 5 minutes.
2 Add in the red pepper, paprika, cayenne and turmeric and stir-fry for another 3 minutes.
3 Crumble in the chicken stock cube, then stir in the rice until thoroughly combined with all of the other ingredients. Pour in the measured boiling water and leave to simmer for about 5 minutes.
4 Stir, then simmer for another 10 minutes, stirring regularly to prevent sticking.
5 Add the peas, season with salt and pepper and stir-fry for a final 5 minutes.
6 Check that the rice is cooked and not chalky. Grate the lemon directly over the top of the dish and scatter with the parsley leaves. Chop the lemon into wedges and serve on the side.
NOTE If you fancy adding some prawns, simply fry them separately and stir them in when the paella is cooked.
Cambridge Restaurants Serving Paella
If you feel like leaving the cooking to one side and venturing out, Cambridge offers some fantastic options for restaurants serving paella.
Tu Casa Tapas Restaurant -

8 Mill Rd, Petersfield, Cambridge CB1 2AD, tel: 01223 563357 - rated 4.6/5 by 346 Google reviewers, who love this restaurant's paella.

La Raza - 4-6 Rose Cres, Cambridge CB2 3LL, tel: 01223 464550 - also highly rated by Google reviewers visiting this Cambridge paella restaurant