Bartlow
Selling or Buying in Bartlow?
If you are thinking of selling or buying a property and are looking for a Bartlow estate agent, then please contact Hockeys on 01223 356054 to speak with one of our local village specialists.
Alternatively, click here if you wish to search online for any available properties in the village or here if you are thinking of selling and would like to arrange a face-to-face, free, no obligation, valuation. Just curious? Then click here for an instant valuation of your home.
Location
Bartlow is a small, picturesque village which lies 12 miles (19.31 kilometres) south of Cambridge, 7 miles (11.27 kilometres) west of Haverhill and is on the border of Essex, around 5 miles (8.05 kilometres) away from the A11.
Village Information
The River Granta runs through the village and is close by to the villages of Shudy Camps, Castle Camps, Ashdon, Horseheath and Linton.
The village is home to the Bartlow Hills which is a Roman cemetery which has three of its mounds remaining. These hills provide beautiful walks which lead to the surrounding woodland and the Church. To the east of the village lies Bartlow Park, a nineteenth century mansion with an estate of around 40 acres.
The closest primary school is Linton Heights Junior school, rated good by Ofsted, with secondary schooling provided by Linton Village College, rated Outstanding.
Facilities
The village has one pub, the Three Hills located close to the Bartlow Hills, which is a charming 17th Century Grade II listed building which has recently been renovated and is a popular location for food and drinks.
If you live in Bartlow and feel there is anything to add or correct in our village guide, then please do let us know as we aim to keep it as useful as possible for home buyers moving into this area.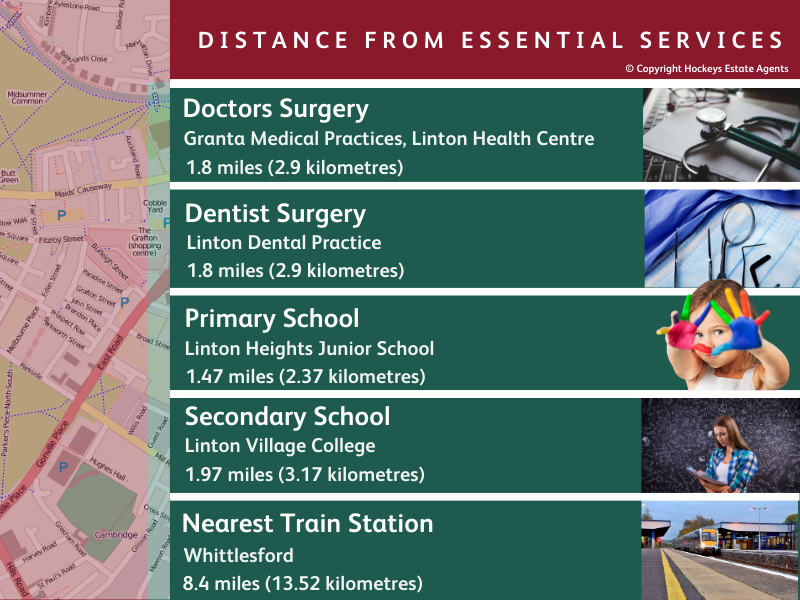 Updated 16th April 2020.
Please note that Cambridge has a fine selection of independent and special schools, which have not been included. The information regarding schools, doctors and dentists contained in this infographic is based on information supplied by the GOV.UK website. You must seek clarification from the school itself to ensure that the area above is within the correct school catchment. Train line distances are straight line measurements.
If you live locally and feel there is any incorrect or missing information in these village guides, then please do contact us as our aim is to keep them as up to date as possible to assist buyers moving into the area.