Stapleford
Selling or Buying in Stapleford?
If you are thinking of selling or buying a property and are looking for an estate agent in Stapleford, then please contact Hockeys on 01223 356054 to speak with one of our local village specialists.
Alternatively, click here if you wish to search online for any available properties in the village or here if you are thinking of selling and would like to arrange a face-to-face, free, no obligation, valuation. Just curious? Then click here for an instant valuation of your home.
Location
Stapleford is situated about 4 miles (6.44 kilometres) south of Cambridge adjacent to the River Granta and 13 miles (20.92 kilometres) from Royston.
Village Information
Stapleford is a popular village due to its proximity to Shelford train station and the south side of Cambridge. The village is home to the Stapleford Granary, a study centre for the arts and music where it hosts concerts, lectures and events which are open to all and offers space for educational activities and courses. On the road to Haverhill is Middlefield, a house formerly known as Mount Blow which was used as a nursing home for injured soldiers during the first world war.
There is a primary school in the village with the local secondary school, Sawston Village College, just over 1.5 miles (2.41 kilometres) away.
Facilities
There are two public houses in the village, The Rose and The Three Horseshoes. The latter specializes in a long whiskey and gin menu, as well as fine foods.
Stapleford is also home to St. Andrews church, a primary school, garages and allotments. There is one pub, The Three Horseshoes, which was recently refurbished and serves a good range of cask ales with a food menu leaning towards Cypriot & Greek dishes. There is a youth football club, a cricket team and several farms and other businesses.
Updated 16th April 2020.
If you live in Stapleford and feel there is anything to add or correct in our village guide, then please do let us know as we aim to keep it as useful as possible for home buyers moving into this area.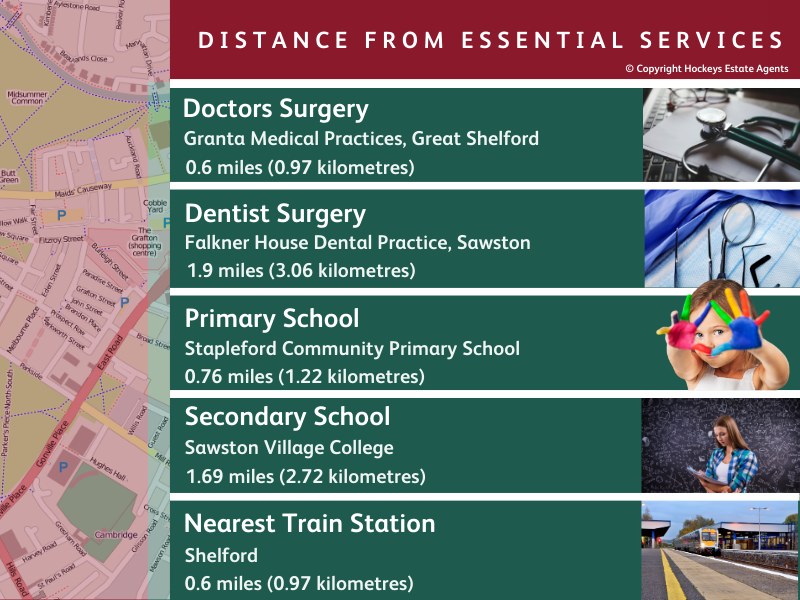 Please note that Cambridge has a fine selection of independent and special schools, which have not been included. The information regarding schools, doctors and dentists contained in this infographic is based on information supplied by the GOV.UK website. You must seek clarification from the school itself to ensure that the area above is within the correct school catchment. Train line distances are straight line measurements.
If you live locally and feel there is any incorrect or missing information in these village guides, then please do contact us as our aim is to keep them as up to date as possible to assist buyers moving into the area.